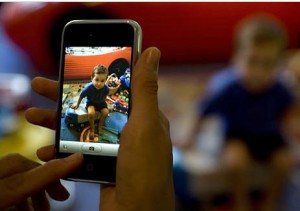 Having two children of my own, if I could give one simple bit of advice to parents out there..it would be to "take photos".  You do not need to be a professional photographer (which ironically enough, I am blessed to be married to one).  Just take photos…all the time.  Form your iPhone, smartphone, iPod, your small point and shoot.  Just take them.  It is never too late to start.
Even video…take video.  Believe me, you will never look back and say, "Damn…I took too many photos or video…"
Kids grow fast…and they change fast.  Unfortunately, our memory is just the opposite…we forget things a lot quicker.
Some of my fondest memories is sitting on the couch and watching videos of my kids, with my kids…
IMPORTANT.  Remember to BACK UP what you take.  Photos are great, but many never see life on Photo Paper.  They end up on our phones…computers, etc.  Remember to back up your images.  DVD's and CD's do not last as long as you think they do, so use an offsite company to save them.  At a minimum..to have a back up.
Some services to pack up your photos are:
www.instagram.com This has become my go to app for my iPhone now.
www.lnclocker.com (you can use this service to back up your entire computer!!  I use it…it is a must.)
www.flckr.com I think this is a bit older and not as easy to use as Instagram
Don't just rely on these digital images, print out photos…frame them.  Photo should be displayed and become a reminder of your memories.