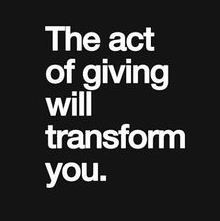 Giving is gratitude in action.
(originally posted on 18 Dec 2012 – updated since) As I am one that loves to help others, I thought it would be nice to try out a little mini-project I've been rolling over in my brain since I started the Plan [b] Project.  After reading a recent article in my local paper, "25 acts of kindness", I decided it was time to get the project rolling.  I call it simply the [b] generous project (On twitter: #bgenerous) and I would love it if you would consider being involved.
The idea is pretty simple: as you're out and about this Christmas season (and continuing on into the new year), look for some opportunities to show some unexpected generosity to a stranger.  It can be as simple as buying coffee for the next person in line or it can be something more significant like having your kids pick another family at the restaurant where you're having dinner, and paying their bill. Perhaps you could leave a jar of Pumpkin PamCake mix (a Spencer Family Sunday tradition…created by my Mother "Pam".  If you want the recipe, just email me!) and leave it on your neighbor's doorstep. (I finally did this.)  The opportunities are endless.
Then, in order to keep the ball rolling, I have made a business card-sized note that I pass along to the recipient of my generosity in hopes of inspiring them to do the same for others. I will also included a link back to this post where givers and recipients alike can tell the story of their involvement in the [b] generous project. How exciting to read the different ways that people choose to be generous this Christmas and throughout the year.  Or…for you tweeters…you can post on Twitter by using hashtag #bgenerous.
So what do you think? Are you in?
If so, start giving today.  Soon, you will be able to download and print the [b] generous "pay it forward" card.  So…until then…if you would like some [b] generous cards, just use the CONTACT link above and forward your address.
Merry Christmas and Happy Holidays!  Remember to [b] generous…throughout the year.