Out with the Old in with the New
Christmas is not even here yet and I am looking forward to 2013.  A couple of years ago Becky (my wife) started a new family tradition.  On New Years day, which in Bermuda is typically Bermudaful, the entire Spencer Family writes down all the negative things in our lives that we want to get rid of for the new year.  We tie it to a rock, with twine, walk the South Shore beaches..climb to the highest point…and we all throw our rocks into the sea.    The tradition will continue, where ever we end up living on this planet.
For the Kids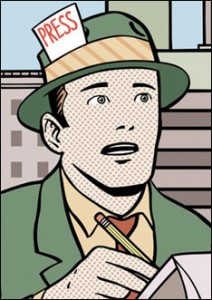 Last year, I began a 2nd Spencer Family tradition.  I took 20 random questions (i.e. What is your favorite food? What is your favorite movie? What do you want to be when you grow up?….you get the picture.) and I interview my two boys.  After the interview, I put all the questions and answers on a sheet, add a photo or two, name, age…date of interview, etc.  I love to share the sheets with Grandma and Grandpa….  I plan on doing this until the day that they will no longer let me (maybe their wedding day??).  I wish I would have started this years ago.  Something very cool to look back on years from now.   I may even put these in a book down the road.  For a sample list of the question, CLICK HERE.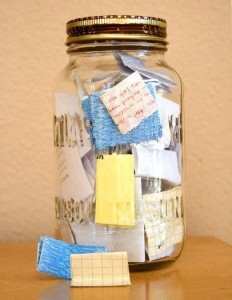 New Family Tradition
As the first family tradition is about getting rid of the negative things in your life, this year I am going to add a tradition that allows us to capture the positive things in our lives.
This January, we will start the year with an empty jar and fill it with notes about good things that happen during the year. Then, on New Years Eve, we will empty it and see what awesome stuff happened that year. Good way to keep things in perspective!