Relay For Life of Bermuda 2017 | 12 – 13 May 2017
Help us to serve our community building lives free of cancer and disease.
Can you believe we are entering year 4 of Relay For Life in Bermuda!  And we owe it all to you – our survivors, caregivers, team captains, participants, supporters, donors and volunteers!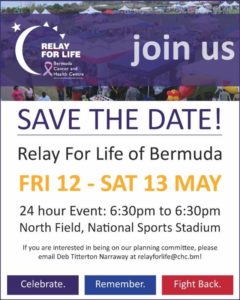 Bermuda Cancer & Health Centre has moved this year's event a little earlier in the year. We know you are all looking forward to Relay 2017 but may wish to be involved in the sailing event in June.  So please save our date, mark your calendars….
Let the planning begin – we are seeking Committee Members 
Relay For Life of Bermuda brings people together from all walks of life with the common goal of eliminating cancer. No matter who you are, there's a place for you. All talents and interests are welcome, so please join us today!
Event Chair: main role is to provide direction and leadership in order to attain goals while representing Relay For Life in the community.
Become a Team Captain: As a Team Captain, you are responsible for recruiting between 1 to 24 team members and encouraging your team to participate and embrace the event, you are the heart and soul of Relay For Life.
Team Development: Re-enlist veteran teams, recruit new teams and do presentations at team captain meetings.
Registration/Accounting: Help oversee the registration of participants and the tabulation of funds raised per individual/team. This is a great opportunity for bank tellers, accountants, etc.
Setup & Logistics: Oversee the Relay facility and assist with the setup and clean-up of the site. Including recruitment and management of event vendors such as security, waste disposal, cleaning attendants etc.
Survivors: Recruit cancer survivors and caregivers to participate in the Relay's opening lap and other survivor celebration activities. Coordinate the survivor ceremony, reception and activities.

Food & Beverage: Secure donations of refreshments and beverages for the participants and manage the food area during the event.
Entertainment & Activities: Arrange entertainment for the event consisting of music and activities with focus on main stage.  Kiddieland area has a Chair volunteer in place.
Public Relations/Media and Mission Delivery: Coordinate marketing and media coverage for the event; before, during and after. Educate Relay volunteers about Bermuda Cancer and Health Centre's programmes and services and healthy choices for living.
Office Assistant: Working out of Bermuda Cancer and Health Centre for a few hours each day Feb – May.  Oversee the Relay For Life online webpage, send out blast emails, upload pictures, and help Team Captains with their personal pages. Manage phone and public inquiries and assist with the distribution of event packages.
Let us know if you are interested in a specific area and we can put you in touch with committee members from past years.  Training and mentors will be provided.
Send us an email if you are interested and let's chat or contact the Bermuda Cancer & Health Centre, PR & Fundraising Manager, Deborah Titterton Narraway at the Centre.